The album Lament has won the Norwegian Grammy "Spellemannsprisen" in the contemporary category!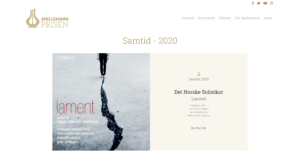 The concerto for solo percussion and choir "Lament" was commissioned by Hans-Kristian Kjos Sørensen in 2015 by composer Lars Petter Hagen and is recorded and released on BIS Records with The Norwegian Soloists´ Choir conducted by Grete Pedersen.
The other two pieces on the album are composed by Nils Henrik Asheim and Arne Nordheim.  Ensemble Allegria and percussionists Terje Viken and Daniel Paulsen are also contributing to the two latter works.