2021 is marking a particularly active year for Hans-Kristian Kjos Sørensen in his work of premiering new concertos.  In spite of the current corona situation, he is premiering no less than 3 concertos for solo percussion and orchestra written by Norwegian composers, as well as touring Lament concerto for percussion and Choir.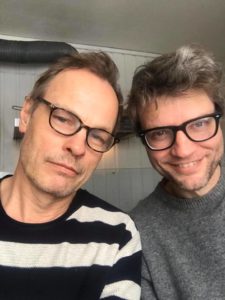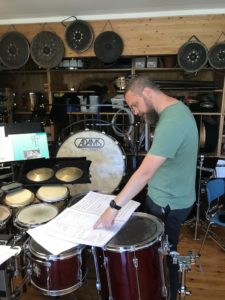 Starting in January, he premiered Rolf Wallin´s new double concerto Das War Schön! for percussion and cello with cellist Tanja Tetzlaff and Trondheim Symphony Orchestra conducted by Peter Szilvay.
Tetzlaff and Sørensen then repeated the concerto with Gävle Symphony Orchestra and conductor Jaime Martin  in April.
In September he will continue by premiering Eivind Buene´s House of Mirrors – concerto for solo percussion and wind ensemble with The Staff Band of the Norwegian Armed Forces (Stabsmusikken). This performance is a collaboration with the Ultima Festival.
House of Mirrors will later be performed with the military bands in Bergen, Trondheim and Harstad, Norway.
This is the first concerto where HKKS will be using both cimbalom and percussion instruments as well as leading the ensemble.
And already the month after, in October, he will finally premiere Ørjan Matre´s Concerto for solo percussion and orchestra with Kristiansand Symphony Orchestra conducted by Tabita Berglund.
This concerto will also be repeated in January 2022 with Bergen Philharmonic Orchestra conducted by Ludovic Morlot.
HKKS commissioned in 2017 Lars Petter Hagen´s Lament for percussion and choir. This was recorded with The Norwegian Soloists´ Choir conducted by Grete Pedersen, and the album Lament won this year the Norwegian Grammy – Spellemannsprisen.
HKKS and The Norwegian Soloists´ Choir will tour Lament with 3 concerts in Hamar, Tønsberg and Oslo in November in connection with All Saints Day.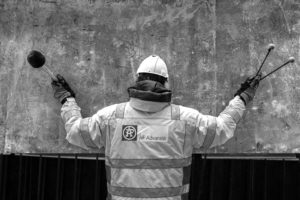 (HKKS playing Lament at the construction site of the new Munch museum)
In 2021 HKKS is also recording new music by composers Ketil Bjørnstad, Håkon Nystedt and Kim André Arnesen.
Through his platform Nordic Percussion Concertos, HKKS is a devoted champion and promoter of new-written music for percussion and ensembles. This work is continuing in the years to come with new and exciting commissions and collaborations in Scandinavia and Europe.