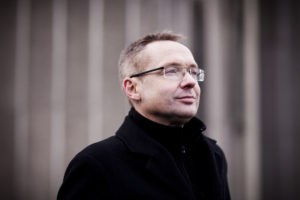 © Benjamin Ealovega
Rolf Wallin has agreed to write a double concerto for cello, percussion and orchestra.
The soloists will be cellist Tanja Tetzlaff and Hans-Kristian Kjos Sørensen on percussion. Tanja and Hans-Kristian have a long-standing musical relationship playing concerts together for over 2 decades.
The premiers will be held with different orchestras in different countries and the first concerts will already be held in January 2021.
The reason why we can do this so swiftly comes as a result of good talks between Rolf and Hans-Kristian where they addressed the position of art, music, and our general societies today. And focusing on the necessity to see new possibilities to reinvest in and to grow with the things one already possesses.
Rolf is currently in an artistic state where he finds it refreshing to revisit earlier pieces that have already been widely performed and add new elements to them. And to question what will happen if you take something you love, like a plant or a tree, prune it, garden it and see new branches and shapes evolve out of the strengthened trunk.
This is in no way a new invention. Historically composers have done this many times before for different reasons.
Rolf then decided to re-write his percussion concerto Das War Schön!
by adding a solo-cello part, taking out some of the solo-percussion, merge them, and thus create a new life and a whole new audible dimension: A brand new piece!
The musical ideas are based and inspired upon words, lines and harmonies that Mozart wrote, among others to his father, Leopold; when he was a child. The original piece was written to the Wiener Mozartjahr 2006.
And come to think of it: Mozart never wrote a cello concerto…
Which orchestras that are involved in this commission will be revealed shortly.