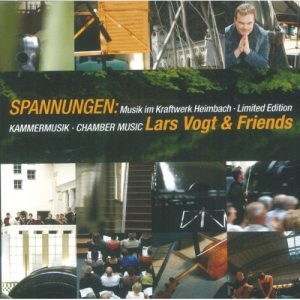 Artists:
Recollections by Brett Dean:
Hans-Kristian Kjos Sørensen Percussion
Sharon Kam Clarinet
Marie-Luise Neunecker Horn
Alexander Lonquich Piano
Antje Weithaas Violin
Hartmut Rohde Viola
Tanja Tetzlaff Cello
Yasunori Kawahara Double Bass
Brett Dean Conductor
P Maxwell Davies: 8 Songs for a Mad King:
Hans-Kristian Kjos Sørensen Percussion
Georg Nigl Baritone
Christian Tetzlaff Violin
Tanja Tetzlaff Cello
Jaime Martin Flute
Sharon Kam Clarinet
Alexander Lonquich Piano, Cembalo
Release date: 2007
CD Avi-Music4260085531004
This 13 cd-box consists of live recordings from
Spannungen Festival
between 1999 – 2006. The recordings of Brett Dean´s Recollections, which was also a premiere, and Peter Maxwell Davies´ 8 Songs for a mad King was done in 2006. Spannungen is one of the best chamber music festivals around with regular guests at the very highest level. The pianist Lars Vogt founded the festival in 1998 and is still its artistic leader.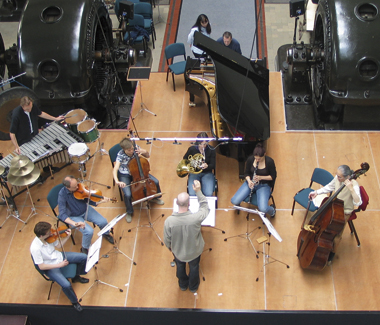 L to R: HKKS, Antje Weithaas, Hartmud Rohde, Tanja Tetzlaff, Brett Dean, Marie-Luise Neunecker, Alexander Lonquich, Sharon Kam, Yasunori Kawahara
[ssba-buttons]
Background
HKKS says:
I have been visiting Spannungen in Heimbach many times since 2006. And it has given me the greatest memories, both in music and friendship. There is absolutely nothing that compares being on stage with the people you love and respect, doing chamber music together at its highest level. And then later debriefing around the late supper and the table tennis at the hotel!
The Spannungen Festival is sold out in minutes year after year, and it gathers hard-core chamber music lovers from all Europe. Often you see the same people in the audience every year wanting to make conversations about music and life.
I don´t think anybody involved with this pearl of a festival ever wants it to stop.