OPEN
is Hans-Kristian´s debut solo album. Released on BIS, it contains percussion solo classics like Iannis Xenakis´ Rebonds, Rolf Wallin´s Stonewave (in a new solo version revised by HKKS and Wallin himself), John
Cage´s Flower & The Wonderful Widow of Eighteen Springs, Flow by Åse Hedstrøm and Omar by Franco Donatoni. The programme is curated by HKKS linking everything together by using his own small music-tableaux commenting on the major pieces.
It received top critics worldwide and won the Norwegian Grammy – Spellemannsprisen – in 2003.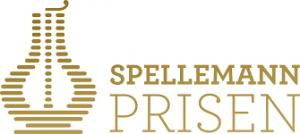 Winner of the Norwegian Grammy – Spellemannsprisen –  2003.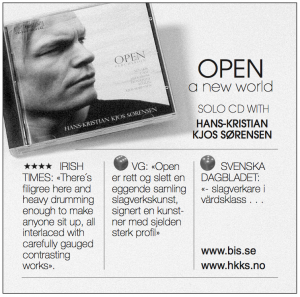 Background
Henrik Hellstenius on the album OPEN:
Unlike other instruments, it is impossible to say that percussion is a specific instrument. Indeed one may argue that percussion is not even a group of instruments but numerous different groups. In total, percussion instruments range over the primary acoustic categories of sounds: stone, wood, metal and skin. The variations in size and shape, expression and sound are enormous and surely unique in acoustical music – from cymbals the size of an ear and objects of stone and wood to gigantic drums and gongs as well as tempered instruments such as
vibraphone, marimba and glockenspiel.
This enormous arsenal of sonic possibilities has long fascinated composers; all the more so
since the early works of Edgar Varèse, Henry Cowell and John Cage. Besides the extended range of sonorities, what is new in composing for percussion lies in the possibility of distilling the pulse and rhythmical aspects of the music. Rhythm is in many respects just as complex a phenomenon as melody and harmony. In the pieces by Iannis Xenakis and Rolf Wallin on this disc, it is the development of the rhythm and the sonorities that expand or bring the music to life. The rhythmical processes create tensions, relaxations, even pulses or chaotic surfaces. While in the pieces by Franco Donatoni and Åse Hedstrøm there are also harmonic and melodic processes at work, here too the rhythmical progress is essential as a structural and expressive element of the musical tempus. With Cage one is more conscious of cyclical, repetitive rhythms. The works on this disc thus give us an understanding of the fascinating variety of writing for percussion. At the same time it is a programme which places great demands on its performer, demands rhythmic and sonic precision in order to take us from the chaotically pulsating to the softly moving; from the extrovertly explosive in Xenakis and Wallin to the introvert and theatrical in Cage.
Iannis Xenakis's Rebonds is music with an almost ritual character. Large parts of the piece are underpinned by a rigid and peculiar pulse which is 'under attack' almost continuously from various kinds of instability. This is music which moves between the primitive and the sophisticated. The cascades of drum sounds, ranging from the lowest to the highest pitched drums, chase and repeat themselves. The listener is given the opportunity to participate in this peculiar conflict between the ritual, static and the pacing, chaotic. It is precisely this interaction between the controlled and the chaotic which characterizes much of Xenakis's music. An almost banal stringency is contrasted with extremely complex relational surfaces in the music. At one important moment, the only contrast in the piece is introduced: the wood blocks. The monumental world of drums is contrasted with this sound which both sonically and dynamically belongs to the opposite end of the spectrum. The piece thus concludes with a kind of strange synthesis between the sonic extremes, wood and skin, and the contrast of existing and dissolving pulse.
Kjos Sørensen on Rebonds:
"Playing Rebonds is about the closest I get to perform a ritual act on my instruments. In spite of the enormous complexity, I find it important to preserve the calm while performing it. Only then are the lines and melodies brought out. My former teacher Sylvio Gualda (the dedicatee of Rebonds) has meant a lot to me. He taught me much about breathing and the use of energy. I only wish that Xenakis could have heard this…"
The Norwegian composer Åse Hedstrøm's Flow for solo marimba represents another variety of repetitive music. Flow is played out in a more forward-moving space. The music unfolds in processes of gradual changes of density, increasing or decreasing. The strikingly beautiful harmonics of the marimba are brought out in the intervallic curlicues, where chords and melodic scraps build up and change gradually through repetition and renewal.
Kjos Sørensen on Flow:
"Flow gives me the opportunity to experiment with the dynamics and the various possibilities afforded by the harmonics and dynamics of the marimba. I have always been fascinated by rhythmic modulations, of which there are many examples in Flow. This, in combination with the minimalist elements and the ruthless deconstruction of previously presented lines, makes this a piece I cannot let go of easily."
The two works by John Cage, The Wonderful Widow of Eighteen Springs and A Flower, not only demonstrate a completely different approach to music, but also create a showcase for the more theatrical side of the performer. Where Xenakis, Hedstrøm, Wallin and Donatoni draw lines and build phrase out of phrase or process out of a process, Cage in these two short pieces contrasts two sonic worlds: song and striking on the grand piano. One could almost imagine them to be music composed for two short pieces of Japanese Kabuki.
Kjos Sørensen on The Wonderful Widow of Eighteen Springs:
"This piece was impossible to record during the day. Not because the tempo is so very rapid in the daytime, but because at night everything is slower. In the dark thoughts, feelings and loneliness are given free rein, you think about your own state of mind: dreams, fear and happiness!"
Kjos Sørensen on A Flower:
"It's always fun to wheel out the piano during a concert and then not to play on it – just strike it on the side, on the lid and under the lid – and on top of that I get to sing as well! Sometimes I use full voice, sometimes falsetto. Here I sing in falsetto, partly because it has always been easier for a bass like me to execute the cooing of doves or quacking of a duck in that way…"
Cage's softly spoken approach and the mixture of instrument and voice are also present in Kjos Sørensen's three atmospheric improvisations, Open I, II and III, where the musical language, the flow of time and the sounds awaken associations to an Eastern musical tradition.
Kjos Sørensen on improvising:
"I grew up playing improvised music. When I first played classical music I was already 19. Improvising comes as naturally to me as learning music from a score. The one influences the other. Improvising gives me the freedom to communicate music through other channels than notated music. At the same time, the need for a form is imperative. I have always liked difficulties."
In Omar for solo vibraphone, the Italian composer Franco Donatoni creates an entire small world of sound. The piece progresses from the softest sounds to the sharpest attacks. Even the motor-powered rotors which make the notes vibrate – the instrument's most characteristic feature – are put to use. The work unfolds almost like a set of variations, focusing on different ways of moving through harmony. During the course of the piece, there are changes between different tempi and types of movement. Harsh chordal attacks are contrasted with gently flowing harmonies. One is transported from one type of movement to the next, often without any transition. At the same time there is a strong coherence between the different types of movement since many of the textures are repeated in the course of the work.
Kjos Sørensen on Omar:
"I never thought that I'd find a piece of music that could tell me so much about atmosphere, energy, subtlety and strength! Omar has all of this and so much more: virtuosity, dynamics, lines, harmony and strength. The work is a sort of tour de force for every vibraphonist. It's been a long way to go, but now it feels wonderful to have done it."
Stig Sæterbakken on Stonewave by Rolf Wallin:
'Stonewave. A wave that becomes petrified. Or a stone that attempts to tear itself loose from its rigid form, dissolve itself, transforming itself into a liquid and becoming a wave; perhaps, if the temperature becomes high enough, and it does, temperature once more being used as a musical term, as it should be; "this is music of high temperature", and perhaps the heat manages to make the stone melt, like a glowing wave; the percussionists strike – pause – and they strike again – from the left – pause – from the right; sketches of rhythms which break off before they – always new rhythms, new waves, new blows, stone against stone, sometimes with effort, sometimes swift, sometimes nothing, like a series of beginnings, approaches, attempts to meet, unite, col- laborate, and all of these beginnings, all of these rudiments of interaction finally fall into some- thing which resembles a steady rhythm and a uniting of violent forces (six percussionists) which are set in motion; more and more in one another, melted together (while the temperature increas- es steadily) like a wave of stone, and it is as if some primitive pulsating rhythm is extracted through the percussionists' common efforts, beating and thundering, joined in cascades, rolling, wavy, hammering, and then something mechanical, like a violent tick-tock-tick-tock out of the wave, and then down again and up again like a swell, the wave strikes against the stone and splinters, BAM!! BA-RAM!!
'Finished. Ah…
'Breathe out. Huh! Wild. Aggressive. Infernal. Thundering: this tastes of mathematics, this must be mathematics, deliberately resolute meticulous mathematics, this and nothing else.'
Kjos Sørensen on Stonewave:
"Recording Stonewave was so much fun! Stonewave is full of laughter, quotations from Disney (listen out for Donald Duck in the middle section of the piece), Latin tags and heavier beats, as in the closing section. After a lot of trial and error, I managed to build a solo set-up (where it is no disadvantage if the performer is something of an octopus) with which some of the essences of the version for sextet could be extracted and shaped into a whole. One really hears the drum-waves and metal-waves crashing against each other towards the end. Wonderful!
© Henrik Hellstenius 2002
Press reactions
VG: * * * * * *
The solo-percussionist has unlimited possibilities for making sounds and effects. It demands brain, breath(!) and a well-developed coordination to handle everything at the same time. Hans-Kristian Kjos Sørensen shows us that he´s got what it takes. Iannis Xenakis` primitivism, Rolf Wallin's explosive outbursts and Åse Hedstrøm´s "Flow"; Everything sounds as Sørensen is unstrained in his musicmaking. The improvisations, the singing and whistling are cunning and well timed. This cd is simply a grand collection of the art of percussion, signed by a performer with a rare strong profile.
Svenska Dagbladet: * * * * *
A world-class percussionist presents himself…
In Iannis Xenakis Rebounds we feel the direction and the ritual presence even more taken care of by Sørensen. He seems to hold the ritual circle continuously, the dramatic scenario is brought forward and the perception of eternity; The drums have been calling us a long time and will continue to do so a long time more, both within and beyond us. Sørensens own improvisations Open I-III are like refreshing sorbets in a multi-course dinner party, as well as increasing the overall temperature of the CD.
IRISH TIMES: * * * *
There´s filigree here (in the aptly-titled Flow and Donatoni´s characteristically fresh take on the vibraphone), and heavy drumming (Rebonds, more circumspect than the live performance, is still enough to make anyone sit up, and Stonewave builds up a fair heat, too), all interlaced with carefully gauged contrasting works.
Smaalenenes Avis: * * * * *
Especially enjoyable is it to listen to Rolf Wallins "Stonewave", this time in a version for solo-percussion. The listener is caught up in a very special universe of pulsating and driving rhythms. The music on this disc is so full of contrasts, which makes this recording interesting, even after several times of listening through it. "Open" is a true adventure, which can be experienced over and over again.
MusicWeb:
Rolf Wallin´s Stonewave is here given a spectacular solo performance by Kjos Sørensen. His sheer technical bravura is bracing, and he describes in the booklet his sense of fun and mischief in performing the work, right down to Donald Duck impersonations! The whole thing builds up to a thrillingly physical climax and is a real tour de force of percussion technique. This disc explores some of the music playable by a solo percussionist, though Kjos Sørensen is a versatile and imaginative musician, who not only includes improvised work here but sings on two of the tracks, two little pieces by John Cage.
The concluding improvisation Open III is a gently Phrygian piece, featuring the performer whistling in unison with his glockenspiel. In many ways, this CD is an amazing achievement. Kjos Sørensen is a brilliantly gifted performer, but clearly an imaginative and creative one too. A very special issue, continuing BIS´s tradition of opening our minds and our ears.
Percussive Notes:
Hans-Kristian Kjos Sorensen delights in revealing the expressive possibilities found on this solo percussion CD. Sorensen, who is a singer in his own right, here has a wonderful opportunity for indulging his musical imagination in sculpting an expressive vocal line while serving a dual role as his own accompanist. He demonstrates his abilities to effectively manipulate other expressive parameters such as timbre and dynamics, as in his use of the full dynamic range in "Omar" for solo vibraphone, and dynamic and harmonic possibilities the marimba affords in Hedstrom's "Flow" for solo marimba. The works on this disc give the listener a sample of 20th-century percussion writing that displays a wide range of compositional approaches, with the works of Xenakis and Cage serving as polar extremes.
Allaboutjazz: Valutazione: * * * *
Certamente merita attenzione questo lavoro, cosè denso di spunti per la comprensione delle percussioni e delle composizioni e sperimentazioni proposte da compositori contemporanei. Merita inoltre una particolare nota di lode l'interpretazione di Sørensen, attenta a non sovrastrare i maestri che esegue, ma capace in ogni caso di darci un segno libero e pulito della propria sensibilitè.
"Hans-Kristian Kjos Sørensen is probably the best coordinated showman in
the world".
Andrè Jute, Irish Examiner, Dublin
"Sørensen elicits fantastical textures from an array of tuned
percussion. Very impressive indeed".
Simon Hopkins, New Note
"The conductor Hans-Kristian Kjos Sørensen kept order in the farmyard of
Witold Lutoslawski`s ferociously difficult Preludes & Fugue for 13 Solo
Strings, a showpiece for the performers".
Andrè Jute, Irish Examiner, Dublin
"Sørensen delivered this 14-minute tour-the-force (13 Drums) with
stunning virtuosity".
Ian Fox
"Whether in meditative mode or at his most vigorously energised, Sørensen is a charismatic communicator. His daredevil assault on the Xenakis`s Rebonds brought the audience cheering to its feet".
Michael Dervan, Irish Times, Dublin
"Sørensen`s performance of 13 Drums depicts just how bold and exciting a chamber music festival can be". Jackie Keogh, Southern Star, Ireland
"Mention spéciale à le percussionniste Sørensen, toujours très subtile, lourd jamais ".
Franck Ernould, Magazine Keyboards, France
"Sørensen viser lysende komisk talent som djevel og lydskaper. Han er multikunstner, ikke bare på slagverk".
Fredrik Rütter, Aftenposten, Norway
"Sørensen`s solo from Aperghis`s Conversations lifted the concert onto its highest plane". Michael Dervan, Irish Times, Dublin
"Iannis Xenakis sitt mesterlige perkusjonsstykke Psappha var i Kjos
Sørensen`s praktfulle framføring en pendling mellom det endelige og
forventningen".
Per Dahl, Stavanger Aftenblad, Norway
"Xenakis sitt verk Rebonds ble fremført av Kjos Sørensen som
underlivsmusikk med retorisk kraft. Sørensen imponerte sterkt ved å
holde den fysiske og psykiske intensiteten på topp gjennom hele denne velgjørende massasjen for trommehinnene".
Nils Henrik Asheim, Stavanger Aftenblad, Norway
"Sørensen improviserer frem sugende afrorytmer og skarpslepen brutalitet så vi ikke vet hvor det ene slutter og det andre begynner".
Yngvild Sørbye, Dagbladet, Norway
"Det ble skapt nattstemning fra myk melankoli til rapsodisk
løssluppenhet, ispedd litt nattorden, raslende fotlenker og
dommedagsdrønn fra Kjos Sørensens perkusjonsarsenal. Kjos Sørensen var likevel nøye med decibelutporsjoneringen og konsentrerte seg i stor grad om nennsom, delikat fargelegging".
Terje Mosnes, Dagbladet, Norway
"Gjennom musikken til Volans og Stockhausen viste Kjos Sørensen en enorm dynamisk kapasitet som ble ytterligere profilert av den vare nerven i Franco Donatonis komposisjon Omar. Dette ble ikke bare en fysisk og musisk kraftprestasjon av Sørensen. Det ble også et bevis på at kun slagverk på programmet kan bli stor konsert på mange plan. To timer rakk bare aldri å bli kjedelig!"
Ulf Sverresvold, Nordlys, Norway
"Hans-Kristian Kjos Sørensen trollbandt publikum i to timer!"
John Gustavsen, Nye Musikken, Norway
"Kjos Sørensen oppviser stor formidlingsevne og innlevelse. Han før vist frem sin tekniske begavelse samtidig som han får frem en menneskelig dimensjon".
Arild R. Andersen, Aftenposten, Norway